The Ricky Rubio Foundation's
areas of focus
Lung Cancer
OUR FIGHT
Increase lung cancer awarness through digital campaigns. Support our allies' fundraising campaigns".
Underprivileged Youth
OUR FIGHT
Youth support in vulnerable neighborhoods in Catalonia and Salt Lake City through valued based afterschool basketball programs.
Disabled Youth
OUR FIGHT
We support special Olympics' Unified Basketball, a basket program where teams are composed of people with and without intellectual disabilities.
---
History
Since I started playing basketball, I have always thought about how to leverage professional sports to help others and how to have an impact on the greater community.
I had always tossed around the idea of starting a foundation until the decision to act became clear. My mother was diagnosed with lung cancer in the summer of 2012. The following four years were some of my hardest. In one of my last conversations with my mom, I promised her that I would do everything in my power to help others.
Vulnerable children and youth is one of my focuses since I feel strongly about helping them grow and integrate into society in a healthy manner. The other objective of my foundation is the fight against lung cancer in terms of both awareness and prevention.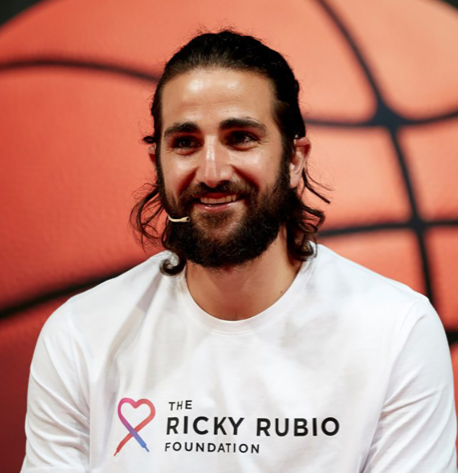 ---
Global money raised
& what we have achieved
Iniciar las gestiones para atraer patrocinadores y colaboradores que hagan posibles nuestros objetivos.
Amplia participación mediática en el Dia Mundial del Cáncer de Pulmón (17 de Noviembre 2018) con la emisión de un vídeo sobre esta enfermedad con la participación de Ricky Rubio, el escritor Eduardo Mendoza y el Dr. Santiado Viteri, especialista e investigador.
Puesta en marcha de una sala de confort para pacientes y acompañantes en junto a Instituto Oncológico Rosell en las dependencias del Hospital Quirón.
Viaje en familia a Nueva York del niño Luca de la Vega (12 años, Mataró), enfermo de un cáncer muy agresivo. TRRF los invitó al partido Nknicks-Utah de la NBA donde vivo una experiencia inolvidable.
Desarrollo del programa Community Team en la Assossiació Esportiva Ciutat Vella del Raval (Barcelona) a favor de 300 niños y niñas que además de poder jugar a Basket con la ayuda de los servicios sociales del Ajuntament de Barcelona han recibido de TRRF material en forma de uniformes y un proceso de implementación de las Habilidades para la Vida promovidas por la Organización Mundial de la Salud (OMS). Esta doble vía de educación no formal y deportiva se realiza mediante la formación específica de entrenadores para que dispongan de recursos y herramientas psicopedagógicas suficientes.
---
2019 Challenges
of the Foundation
Sensibilizar a la comunidad sobre el cáncer de pulmón, un tipo de enfermedad muy difícil de diagnosticar hasta que ha avanzado, em muchos casos letal y silenciosamente. Prevenirlo precozmente con la difusión social de buenos consejos, colaborar en la investigación y prestar apoyo a los pacientes y a sus familias.
A través del baloncesto, contribuir a la integración y socialización de adolescentes y jóvenes sin recursos para actividades extraescolares.
Dar visibilidad y apoyo a Special Olympics como embajador internacional.
---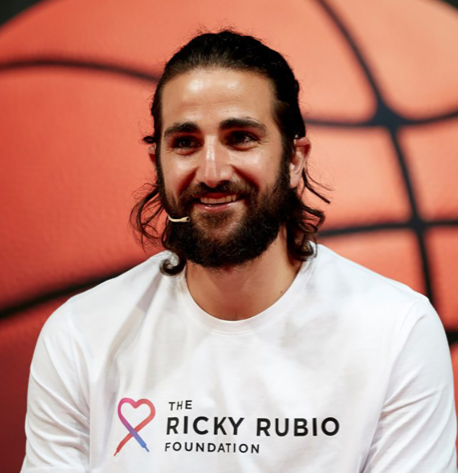 Ricky Rubio
Founder
NBA professional basketball player
Josep Cortada
Trustee
CEO in Advance Inspiring Social Innovation